Anaheim

Ducks®

Chicago

Blackhawks®

Colorado

Avalanche®

Avalanche Tickets
Resale Tickets*

Dallas

Stars™

Los Angeles

Kings®

Minnesota

Wild®

San Jose

Sharks®

St. Louis

Blues®

Boston

Bruins®

Columbus

Blue Jackets®

Detroit

Red Wings®

Montréal

Canadiens®

Canadiens Tickets
Resale Tickets*

New York

Rangers®

Philadelphia

Flyers®

Flyers Tickets
Resale Tickets*

Pittsburgh

Penguins®

Tampa Bay

Lightning®
*Resale tickets to home games for the Buffalo Sabres®, Colorado Avalanche®, Los Angeles Kings®, Montréal Canadiens®, Ottawa Senators®, and Philadelphia Flyers® currently are not part of the Ticketmaster® verification program.
NHL, the NHL Shield, the word mark Stanley Cup and the Stanley Cup Playoffs logo are registered trademarks of the National Hockey League. NHL and NHL team marks are the property of the NHL and its teams. © NHL 2014. All Rights Reserved.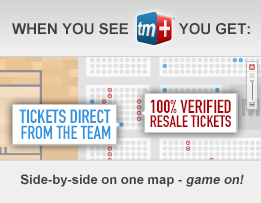 FAQs
What is TM+?

It's one search, every seat!

Events with the TM+ icon show all your risk-free options side-by-side:

Tickets straight from the teams
Plus 100% Ticketmaster-verified resale tickets from fans and other sellers

Know your tickets are good before you get to the gate with the power of Ticketmaster. (Not all games on our site are TM+ events yet, but we're working hard to bring more teams on board.)

Plus if something comes up and you can't make it you can sell your ticket right from My Account! You get direct deposit for tickets sold and never deal with delivery.

Are resale tickets safe?

When you're talking Ticketmaster they are! We verify every resale ticket sold by fans and other sellers so you don't get someone's old ticket - we reissue a new one just for you. Plus most of the time you get your freshly-minted ticket instantly. No one else can do all that.

How do I sell tickets?

Selling is simple!

Click the Sell button next to your game under View All Orders in My Account
Select the tickets you want to list and set your price
Enter your checking account info so you can get paid
Review and list!

Your tickets will be listed on Ticketmaster.com within minutes. Edit or remove your listing at anytime, and get paid by direct deposit for sold tickets.