2019-2020 NFL Ticket Exchange Tickets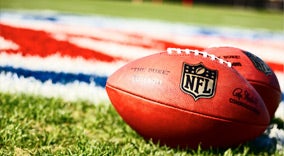 NFL draft season is almost here!
Get the latest FAQs and commonly asked questions about mobile ticket entry, selling, and transferring your NFL tickets.
Read More
What are fan-to-fan resale tickets?
They're 100% verified tickets fans can buy from other fans for many events on Ticketmaster. You don't just get someone's old ticket - or even riskier, a photocopy of their ticket - we reissue a brand-new one just for you. No one else can do that. You're rolling the dice with resale tickets on other sites; only fan-to-fan resale tickets on Ticketmaster come with complete peace of mind.
And while worry-free fan-to-fan resale gives you more ways in, it also gives you an easy way out if you can't make it. List your ticket on the world's largest ticket marketplace straight from My Account - we handle delivery and guarantee you get paid.
How do I know if I can sell my tickets?
If there's a Sell button on your order in My Account chances are you're good to go - click it to set your price and list your tickets.* You can edit or remove your listing anytime, and you get paid by hassle-free direct deposit for sold tickets.
P.S. Selling is an option for more and more events as we continue to bring artists, teams, and venues on board.
*In rare instances an artist, team, or venue may not allow resale for certain rows/seats.
NFL Tickets
Hands down, football is one of the greatest sports to watch live. Its larger-than-life stadiums, high-energy games, and loyal fans make every home game a spectacle to be witnessed in person. When it's go time for you and your team, be there with Ticketmaster Verified Tickets. Ticketmaster is your source for tickets to all your games, and with Fan-to-Fan Resale in play you've got more ways in than ever before. Game On.
NFL Preseason
In the offseason everyone is buzzing about new draft picks, new lineups, and changes in coaching staff, but it's in the four to five weeks of the preseason where actions speak loud and clear - especially for NFL Preseason tickets holders. The preseason schedule starts right after training camp, so make sure you're there when the training ends and the action begins.
NFL Regular Season
The NFL schedule is in full swing from September to January and teams are providing fans with plenty of action-packed moments to cheer and talk about. With only 16 regular season games played by each team, it's a good idea to plan ahead and make sure you're ready with NFL tickets for all the rivalries, hot matchups, and must-see games at home field. The season goes by in a flash, so get in the stands with NFL regular season tickets.
NFL Playoffs
During the NFL Playoffs excitement fills the stadiums as the six highest ranking teams from each of the AFC and NFC face off to determine who'll be crowned conference champs and continue to the Super Bowl. NFL Playoff tickets are some of the most coveted tickets of the season, so be ready when the playoff schedule drops. From the first wild-card games of Wild Card Weekend, to the AFC and NFC Conference Championships, there's no better place to see NFL history made than from your seats.