The Red Jumpsuit Apparatus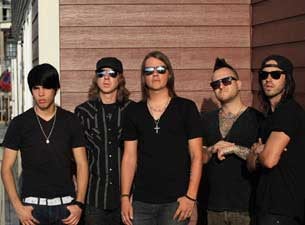 Rock and Pop
The Red Jumpsuit Apparatus Tickets
The Red Jumpsuit Apparatus Tickets and Concert Dates
We currently do not have any tickets on-sale for The Red Jumpsuit Apparatus.

Biography
THE RED JUMPSUIT APPARATUS IN CONCERT:
Dynamic Florida pop-punk band the Red Jumpsuit Apparatus have kept fans on their toes with their varying musical style since their arrival on the rock scene in 2003. Whether frontman Ronnie Winters is growling heavily into the mic on "Face Down" or revealing the band's softer side on "My Guardian Angel," the Red Jumpsuit Apparatus never fails to disappoint fans with their adrenalin-filled live shows. 2014 marks the release of the band's fourth studio album as they treat fans to a preview of new songs on a string of summer tour dates.
BACKGROUND SNAPSHOT:
The Red Jumpsuit Apparatus is the brainchild of fri...
See More