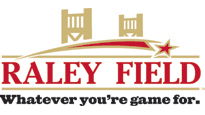 Raley Field

Tickets

400 Ballpark Drive,

West Sacramento

,

CA

95691

Raley Field Tickets and Event Dates
Related Links
Venue Details
Directions
Raley Field is located at 400 Ballpark Drive, just west of Old Sacramento and the Sacramento River. Whether you choose to drive, take Regional Transit, bike or walk, planning ahead can help make your visit to the ballpark more enjoyable.

Directions:
Business 80 Westbound / US 50 Westbound (from Rancho Cordova, Folsom, Roseville, Fair Oaks, etc.)
- Business 80 West to Jefferson Blvd / South River Rd. Exit
- Keep right to exit South River Rd.

Interstate 80 Eastbound (from San Francisco, Davis, etc.)
- Interstate 80 Eastbound to Capital City Freeway (Bus. 80 / US - 50) toward South Lake Tahoe
- Business 80 / US - 50 East to Downtown Sacramento / Jefferson exit
- Straight toward Downtown (do not take Jefferson ramp) Exit at West Capitol Ave. Turn left onto Riske lane. The ballpark will be on your left side just past the railroad tracks

Interstate 5 Northbound (from Stockton, Elk Grove, etc.)
- Interstate 5 Northbound to Business 80 / US - 50 Westbound (San Francisco)
- Exit at Jefferson Blvd. / South River Rd.
- Keep right to exit South River Rd.

Interstate 5 Southbound (from Redding, Marysville, etc.) – SEE ALT. ROUTE BELOW
- Interstate 5 Southbound to Hwy50/I-80 Westbound
- Exit at Jefferson Blvd.
- Right exit to South River Rd.


OTHER WAYS TO & FROM
RALEY FIELD:
Tower Bridge
Park in Old Sacramento and walk across the newly widened Tower Bridge

Regional Transit
Use the Sacramento Regional Transit (RT) System
(sacrt.com)



Parking
Green/VIP Lot is Pass only
All remaining lots are $10 cash parking



Box Office Numbers
916-371-HITS OR 916-376-4700



Box Office Hours
The box office is located near the Home Plate Gate at Raley Field. Ticket windows will be open the following hours:

M - F 10am- 6pm (or 30 minutes after the end of the game)
Sat 10am - 4pm (or 30 minutes after the end of the game)
Sun (Day game) 10am - 30 minutes after the end of the game
Sun (Night game) 2pm - 30 minutes after the end of the game
Sun (No event) Closed




Types of Payment Accepted
Visa, Mastercard, American Express, Discover, and Cash. Photo ID matching the name on the credit card is required for credit card purchases.


Will Call
Guests may pick up "Will Call" tickets at the Raley Field Ticket Office located at the Home Plate Entrance to Raley Field. Photo ID is required of anyone picking up tickets at Will Call, and tickets will only be released to the individual named on the envelope. Will call orders may be picked up during ticket office operating hours any time after the order has been processed.


Accessible Seating
Raley Field meets all structural and service requirements as stipulated by the Americans with Disabilities Act. The following services are available to accommodate the needs of our accessible guests:

Assistive Listening Devices (ALD)
A limited number of Assistive Listening Devices (ALD) are available for guests with hearing impairments. They may be checked out, free of charge, from the Guest Services Office located on the Concourse at Section 112. Guests will be required to leave either their driver's license or major credit card as a deposit.

Drop-Off
There is a drop-off zone located on the corner of Ballpark Drive and Riske Lane at the entrance to Parking Lot A where guests may drop off and pick up their passengers.

Accessible Parking
A limited number of on-site accessible parking is available on a first-come, first-served basis in Lot A. Also, you can catch a shuttle back to the drop-off zone in front of the stadium from any lot. A wheelchair accessible van is also available, which can transport guests in wheelchairs back to the drop-off zone. If you have questions about our accessible parking, please call the Guest Services Department at (916) 376-4700.

Accessible Seating
Wheelchair and companion seating is offered on every level and in all price categories of the stadium. Every seating section is wheelchair accessible and electric outlets are provided at many of the wheelchair seating areas for use in charging power wheelchairs and electronic communication devices.

Elevator
An elevator is located on the Concourse Level of the stadium at Section 112 for wheelchair access to the Field Level and Suite Level of the stadium.

Escorts
Escorts are available for accessible guests or anyone who may need assistance entering and exiting the stadium. Our escorts will meet a guest at the drop-off area and assist the guest into the stadium and to their seat. The escort will then meet the guest at the end of the event and assist them back to the drop-off area. Guests may request escort assistance the night of the event. The escorts are stationed at the drop-off zone located on the corner of Ballpark Drive and Riske Lane at the entrance to Parking Lot A.

Shuttle Service
No shuttle service is available during Raley Field concerts.


General Rules
In the interest of guest safety and enjoyment, River City Stadium Management reserves the right to prevent certain items from being brought into Raley Field. The following includes, but is not limited to, items that are not allowed into Raley Field:
1. Alcohol beverages or illegal drugs
2. Non-alcohol beer
3. Food items
4. Glass bottles or cans
5. Ice chests or hard-sided coolers
6. Camera tri-pods
7. Sticks or clubs (including signs attached to sticks)
8. Fireworks
9. Bullhorns or other noisemakers
10. Confetti
11. Animals (except certified services dogs)
12. Beach balls or other inflatables
13. Bicycles
14. Skateboards or roller blades
15. Squirt guns or super soakers
16. Laser pointers
17. Weapons of any kind

PERMITTED ITEMS:
1. Folding lawn or beach style chairs for guests holding a ticket in the grass lawn seating area
2. Baby formula, bottles and baby food
3. Medication or other special needs
4. Unopened, soft-sided containers of drinks such as small milk cartons, bottled water, juice boxes or pouches
5. Cloth bags, soft packs, backpacks and baby bags (subject to search, must fit under seat)
6. Still and video cameras (see "camera and video equipment")
7. Binoculars
8. Seat cushions
9. Umbrellas (subject to size restrictions)
10. Baseball bats for the purpose of autographs (should be stored underneath the seats once the game begins)
11. Brooms
12. Fold-up strollers (should be stored under your seat; larger strollers may be claim checked at the Guest Services office).



Children Rules
Age Restrictions
Children under two years of age do not need a ticket for entry into Raley Field. However, they must sit on the lap of an accompanying adult. Children two years of age and older must have a ticket to the game or event.

Booster Seats
Booster seats are available for our smaller ticketed guests and provide convenient seating for those little bodies needing a lift! The booster buddy is specially designed for stadium seating and is equipped with a recessed cup and candy holder. The booster seats may be checked out, free of charge, from the Guest Services Office located on the Concourse Level at Section 112. Guests will be required to leave either their driver's license or major credit card as a deposit.


Miscellaneous
EXIT AND RE-ENTRY
Guests may leave Raley Field at any time through any of the exit gates. Guests may re-enter the stadium only after obtaining a re-entry stamp from an attendant at any of the exit gates.

FIRST AID
The First Aid Station is located on the Concourse Level at Section 112. If first aid assistance is needed, please go to the First Aid Station or contact the nearest Guest Services Representative.

GATE TIMES AND ENTRANCES
There are two main entrances to Raley Field: the Home Plate Entrance (SW corner of Ballpark Drive and Riske Lane) and the Right Field Entrance (SE corner of Ballpark Drive and South River Road). Gates will open one (1) hour prior to the start of a baseball game and at designated times for all other events.

RESTROOMS
Guests will find clean and spacious men's, women's and family restrooms on all levels of Raley Field. Locations of these restrooms are as follows:Men's and Women's - Concourse Level Sections 106 and 117 & Suite Level Sections 106 and 117 Family - Concourse Sections 117 and 106 & Suite Level 116 All restrooms have diaper-changing tables and are accessible to guests with disabilities.

SMOKING POLICY
Raley Field is a smoke-free facility and smoking is prohibited in all seating areas, the concourse, restrooms, concession stands, eating areas, suites, and administrative offices. Smoking and tobacco use is restricted to the designated smoking locations, which are near the right field grass seating area. Smoking is also permitted outside each gate, as long as you get a hand stamp to come back in. Our suites guests may smoke on the balconies located on the suite level at sections 106/107 and 116/117.

TAILGATING
Tailgating is permitted in parking lots as long as it is confined to your parking space and does not interfere with parking procedures. In accordance with West Sacramento City Ordinance, guests may not consume alcohol in the parking lots or in their vehicles, nor may they possess an open container of alcohol.


<! fixed bug 75664 -->