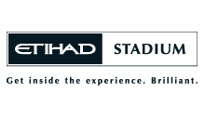 Etihad Stadium

Tickets

Harbour Esplanade,

Docklands

,

VIC

3008

Etihad Stadium Tickets and Event Dates
Related Links
Venue Details
Directions
Etihad Stadium is located at 740 Bourke Street, Docklands.


Parking
You will find it easy to drive to Etihad Stadium. Major street extensions include Latrobe Street Station.

There will be plenty of parking at Etihad Stadium. There is on-site parking available for 2500 cars. Some 4000 spaces can also be found in the areas next to Etihad Stadium. Back in the Western end of the CBD there are some 12,000 spaces, most of which are generally available for casual hire.

The Stadium also provides 52 designated parking bays for the mobility impaired


Public Transportation
Trains
Southern Cross is the nearest train station to Etihad Stadium. It is approximately a four-minute walk across the Bourke Street pedestrian footbridge.

Trams
Trams run to Etihad Stadium from La Trobe Street and Harbour Esplanade. Trams also stop in the CBD on Spencer Street, Bourke Street and Collins Street and all are a short walk to Etihad Stadium.

Buses
The bus terminus is at Southern Cross Train Station and services airport transfers as well as routes across country Victoria. Etihad Stadium is a short walk across the Bourke Street pedestrian footbridge from the bus terminus.

Taxis
The nearest taxi rank to Telstra Dome is located outside Car Parks A and B, adjacent to the NAB building on the Bourke Street extension. Please note taxis are not permitted to enter any of Telstra Dome's Car Park entries as these are non-stopping areas. Taxis with mobility impaired patrons can access Telstra Dome's Car Parks.

Pedestrian
An elevated, 20-metre wide pedestrian footbridge connects Etihad Stadium to Southern Cross station and intersection of Spencer and Bourke streets. Access can also be gained off La Trobe Street (Gate 7), Harbour Esplanade (Gates 8 and 9) and Bourke Street (Gates 1, 2 and 3).


Box Office Hours
The office is open from 9am to 5pm, or an hour prior to the commencement of an event.



Accessible Seating
Nothing has been overlooked in the planning of Etihad Stadium, including care and consideration for patrons who are mobility impaired, whether you are in a wheelchair or use a walking aid.

MOBILITY IMPAIRED SEATING

There are a variety of seating options and price categories for mobility impaired patrons. There are wheelchair bays, and sections with seats for patrons who use a walking frame, cane or are injured. These seats have excellent views and there is no seat directly in front. The precise location of the mobility impaired seating will vary according to the type of event being held and also price type. For some events, certain seats are designed as being ambulatory-accesible. These are for use by the patrons who cannot negotiate stairs but do not require seating allocated for mobility impaired patrons. Seating for companions is available alongside the bay or seat allocated to mobility impaired patrons-subject to availabilty.




<! fixed bug 75664 -->