Click HERE to sign up for all Garth Brooks/Plus ONE residency announcements including information on new dates.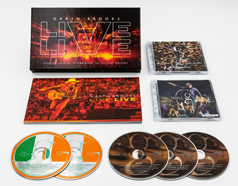 GARTH BROOKS LIVE LIVE BOXED SET
Commemorating his Las Vegas Residency, Garth Brooks LIVE LIVE is comprised of a custom book and 5-discs filled with over 50 of Brooks' most beloved live recordings as well as newly released recordings. The set includes the FINAL release of his celebrated Double Live Album. Not just the original 1998 edition, your Double Live album might be the 25th Anniversary Edition of Central Park or the 25th Anniversary Edition of Croke Park. Also includes, Triple Live, featuring over 25 tracks from the record-breaking Garth Brooks World Tour including brand new, never-released recordings and three new covers. The brand-new boxed set can be ordered now so fans can celebrate the live legacy of Garth Brooks until they can see him LIVE at his Vegas Residency.
Order Now