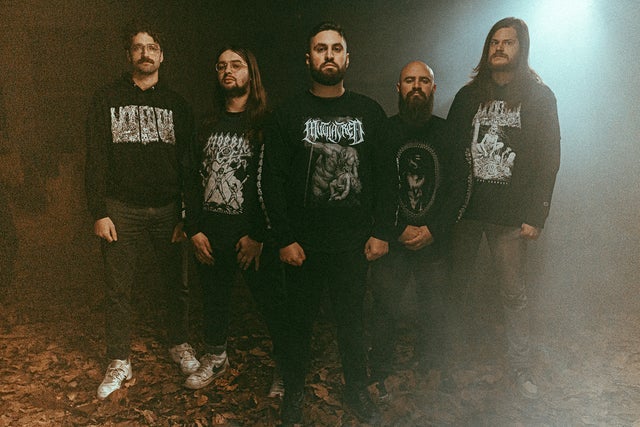 United States
12/9/23

Wantagh, NY

Mulcahy's Pub and Concert Hall

Fit for An Autopsy & Exodus
About
Undeath on Tour
Intense new-school purveyors of death metal Undeath boldly go where previous metal bands dared not tread. The Rochester, New York, quintet has clearly been influenced by East Coast death metal bands including Cannibal Corpse and Morbid Angel, but take it a step further.
Their 2022 full-length album, It's Time...To Rise from the Grave, was praised by Pitchfork, which raved, "Despite the stylistic leaps and bounds within death metal in the generation since, Undeath follow those bygone formulas, from album covers depicting fantastical murders and desecrated graveyards to ghoulish scenes forever-grunted over belligerent riffs and relentless drums... his isn't the future but, instead, a reinvigorated past."
Lest you think Undeath take themselves too seriously, much of their music seems to be a bit tongue-in-cheek, exaggerating the horrors of death and poking fun at this taboo subject. Their live shows are all that you'd want from a modern death metal band -- abrasive and aggressive with extended guitar solos and plenty of headbanging. Their concerts aren't for the faint-hearted, but their legions of fans are anything but.
Grab your tickets now for their upcoming tour dates.
Undeath Live in Concert
Founded by guitarist and main lyricist Kyle Beam in Upstate New York, Undeath have devised a unique way of having fun with the themes of death in their music. Releasing their debut album, Lesions of a Different Kind, in 2020 and follow-up It's Time...To Rise from the Grave in 2022, they've already amassed an audience of devoted, likeminded fans.
Undeath also features vocalist Alexander Jones, drummer Matt Browning, guitarist Jared Welch, and bassist Tommy Wall. They are known for their unusual and creative performance style and merch items, such as Undeath charms designed specifically for Crocs shoes, which are billed as "much needed accessory for your death metal clogs."
Calling themselves "internet music nerds" and "overweight gamers from Upstate New York," they certainly don't try to create a dark mystique around their band the way some other metal bands might do.
Despite their heavy, morbid leanings, Undeath's live shows feel like communal celebrations where their primary goal is for everyone to have a great time.