How to Bid - Step By Step
Search for the event. Once you find it, look for the "Auction" tab to see what auctions are running for the event.
Note: Not all events will be running an auction.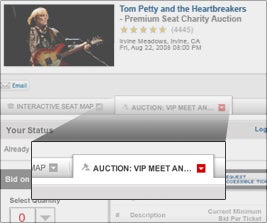 STUDY THE SEATS
In Ticketmaster Auctions, you are NOT bidding for tickets in a particular seat, row, or section. There are many tickets available in a single auction, as well as multiple auction winners. Each winner's seats will be determined by comparing their bid with other competing bids.
The Current Minimum Bid Per Ticket amounts will help you decide how much to bid. Remember, these amounts will most likely rise as the auction progresses.
Also, an auction may have multiple Ticket Groups associated to seat locations. If your auction contains multiple Ticket Groups, you should note the Ticket Group #, Description, and Current Minimum Bid Per Ticket amount assigned to each Ticket Group. The Description will help you determine which Ticket Groups you wish to win seats from.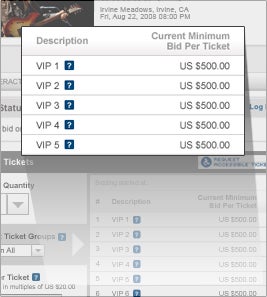 ENTER YOUR BID
To place a bid, select the quantity of tickets you want, the Ticket Group(s) you'd like to win seats from, and enter your bid amount per ticket. When finished, click "Place Bid".
If the auction you're bidding in does not have Ticket Groups, simply select the ticket quantity you'd like enter your bid amount per ticket, then place your bid.
CONFIRM YOUR BID
Enter your credit card information, select a delivery method, read the Auction Terms, then confirm and submit your bid.
Note: Your credit card will not be charged at the time you submit your bid. Your card will only be charged if you are a winner at the close of the auction.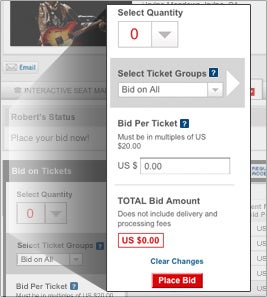 If you are on the auction bid page but do not see your bid status, you need to log in via the "Log in" link at the upper right of the bid page.
Note: You will be unable to check your bid status once the auction ends. If you are not on the auction page, log into My Ticketmaster and click on "My Auctions" or the "Current Auction Bids" link to find the auction you had placed a bid in.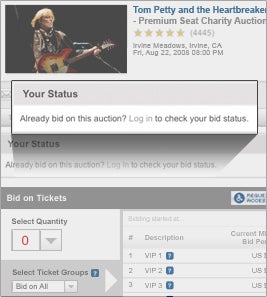 Check your bid status regularly to see if you are winning and what Ticket Group your bid is currently in. You will see whether your bid has remained in the same Ticket Group, has dropped to another Ticket Group, or whether your bid is losing (i.e. no longer competing in any Ticket Group you had selected).
If needed, you may add additional Ticket Groups or increase your bid at any time prior to the auction ending.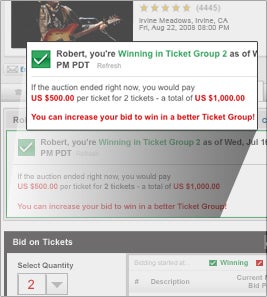 If you win the auction and your credit card is successfully charged, you will be notified via email of your exact seat locations.
If you do not win, you will also be notified of the results via email.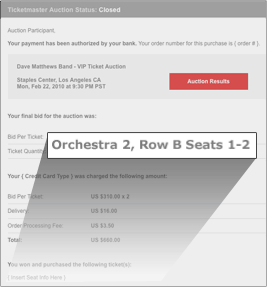 Frequently Asked Questions
What are Ticketmaster Auctions?

Ticketmaster auctions allow our venues, promoters, and artists to sell tickets and ticket packages directly to fans on Ticketmaster.com at a fair market price. There are no provisions for consumers to directly or indirectly sell their tickets via Ticketmaster auctions.

When you bid on tickets, you will be deciding for yourself how much you would like to pay to attend the event. If you have a valid winning bid at the close of the auction and your credit card is authorized for full payment by your bank, you will receive tickets to the event. There are no charges for entering an auction that you do not win. You will have access to Ticketmaster customer service just as you do for tickets sold through a standard ticket sale.

Do Ticketmaster Auctions offer Proxy Bidding-where my bid automatically increases until it reaches my maximum bid amount?