Music Rising Auctions-Benefiting Musicians Affected by Gulf Coast Hurricanes
The nation's top four concert promoters and Ticketmaster have joined forces in support of Music Rising - a campaign to bring the music back to New Orleans and the Central Gulf Coast. Founded by U2's The Edge, legendary music producer Bob Ezrin and Gibson Guitar CEO Henry Juszkiewicz - Music Rising replaces the musical instruments and gear that were lost in hurricanes Katrina and Rita. Now's your chance to attend some of the hottest concerts of the season while helping the Gulf Coast rebuild its vibrant music community.

Bid today on four (4) premium concert tickets* and an Epiphone guitar,** which for most performances will be autographed by one or more artists performing in the show. Most importantly, you'll help the musical culture of the Gulf Coast rise again through replacement of musical instruments.
Music Rising: The Benefit T-Shirt

Worn by The Edge during U2's Grammy performance, this T-shirt is now available as a special charity fundraiser for Music Rising.
Get your T-shirt today!
Music Rising Auction packages include:
Four (4) premium location concert tickets*
One (1) Epiphone guitar which in many cases will be autographed**
Choose the auction for the participating concert event you would like to attend and begin your bidding today!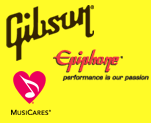 *For General Admission shows, the winning bidder will receive four (4) general admission tickets.
**Guitars will be autographed for select auction events only. Please refer to each auction's event page on Ticketmaster.com to learn if the guitar will be autographed.

For these auctions, performing artists, promoters, Ticketmaster and participating venues are donating their net proceeds to Music Rising. Please note the amounts you pay to purchase tickets/packages may not be tax-deductible by you.