Choose Print-at-Home in checkout!
How to print tickets when you buy online:
Open your confirmation email and click View My Tickets, or go straight to My Account and then Orders and click the event.
Click the View & Print Tickets button and print away!
If you buy tickets by phone they won't appear in My Account, but printing is just as easy. After your purchase confirmation email you'll get a second email with your tickets attached - just open the attachment to print your tickets (black & white works).
All done - have fun!
To use Print-at-Home for events in the US you must have a US billing address. If the event is in Canada you must have either a US or Canadian billing address
---
FAQs
Is Print-at-Home different from TicketFast?
Nope, it's the same thing - just a new name. It's now part of our new eTickets family of convenient options (including Mobile and Credit Card Entry), and just like those names we figure "Print-at-Home" speaks for itself!
Can I print my tickets immediately after purchase?
Yes, in most cases. In rare cases when you see a "print delay" it's usually because we're selling tons of tickets and we need to make sure bots aren't buying them up, shutting out true fans like you!
What do Print-at-Home tickets look like?
Like your 8 ½ x 11 passport to fun.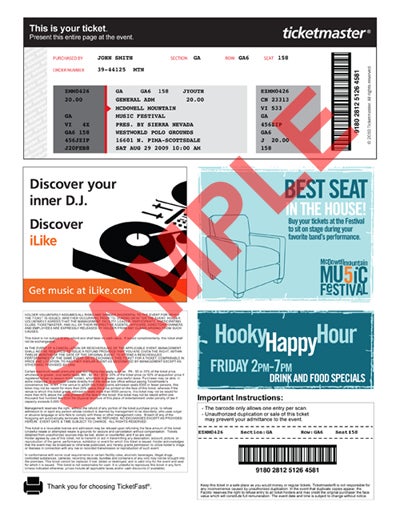 I lost my ticket - can I print another copy?
Yes, but if you're worried someone might find and try to use it please contact us to get a replacement ticket with a brand-new barcode. That way only you can get in!
I bought parking too - do I print that separately?
Yes, if you bought online:
Click View My Tickets in your confirmation email, or go to My Account and then Orders and click the event.
Click the View & Print Tickets button next to your event parking and print away! (There'll be another View & Print Tickets button next to your tickets.)
Why isn't Print-at-Home available for my event?
It's up to the artist, team, or venue to offer Print-at-Home, but in some cases it's simply a technology issue. Not all venues have the necessary equipment to accept Print-at-Home tickets - we're talking lasers, scanners, and some top secret stuff! We're working on it, but it takes time to get everyone on board.