Buying tickets by text
Did you know you can join the list for news about exclusive ticket releases?
In one simple step, you're on the list and on your way. Then, when we get news about new tickets - you get a text with all the details to buy in a single reply.
When your event doesn't have the tickets you're looking for, you can let us know you're interested if we get more. Just look for the box to enter your mobile number to get started.
How does it work?
Popular events tend to sell quickly, but sometimes there may be additional tickets released at a later date. So that excited fans don't have to keep to checking back for super limited availability, we thought it would be easier to notify those interested in attending by text instead.
Before you get started:
Make sure you're logged into your Ticketmaster account
You must have a valid credit card with up-to-date billing in your account
If you're interested in a event and tickets are currently not available, provide your mobile number to get started.
If you haven't opted in to receive texts from us, you'll need to make sure you follow the steps provided in the text to activate text messages. If you're already opted in, you're all set - no additional steps are required and you won't need to opt in.
Then, if more tickets are released, randomly selected fans will receive a text with all the details to complete the purchase.
Important note: because you'll review your ticket details and buy with a single reply, you must have a valid credit card with up-to-date billing in your account. Once you provide your number, head over to your account to make sure you have everything in tip top shape.
Can I tell you how much I want to spend or how many tickets I need?
At the moment, we don't have that feature, but we'll try to use what you search for as a guide and try to get as close as we can.
What should I look for to enter my mobile number?
If your event has the option to shop for tickets by text, you'll see the "Be the first to know" box. That's where you'll want to provide the best mobile number to receive your ticket text if we get news on new tickets.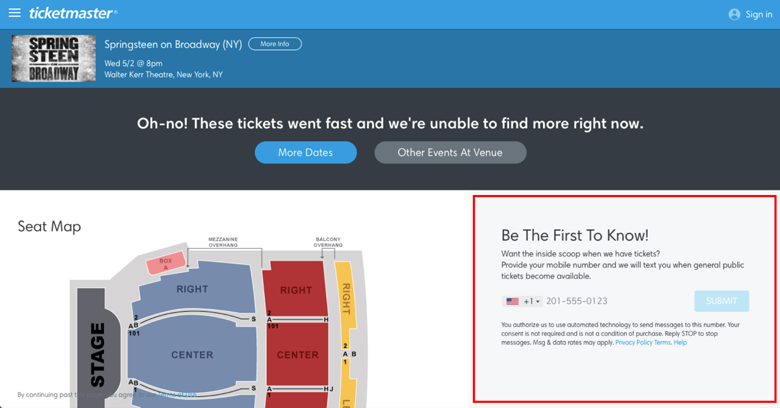 Are tickets guaranteed when I provide my mobile number?
When events are super popular, the list may be extra long. Tickets will be available on a first-come, first-served basis and are not guaranteed.
Do I need to provide my number for every event I'm interested in?
Yes, please. We want to make sure we're only keeping you in mind for only the events you want to attend.
If I respond with STOP to opt out, is that for all texts or just that show?
When you respond with STOP, it will remove you from all future text messages. You can easily opt back in at any time by following the same steps before, or you can reply back to the same text message with START. If you want to let us know you're still interested in tickets, we recommend returning back to the event page(s) and providing your mobile number once more to be safe.