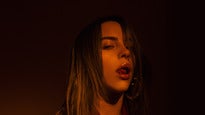 Wed, May 29, 2019 07:30 PM
Please Note:All tickets for this show are general admission, standing on floor level or seated upstairs on a first come, first serve basis.

Ticket + Album
Every ticket purchased online includes 1 CD copy of 'WHEN WE ALL FALL ASLEEP, WHERE DO WE GO?' by Billie Eilish. Approximately 24-48 hours after purchase, you will receive an additional email with instructions on how to redeem your album. US/CAN purchasers only. One CD per ticket. Not valid for Fan to Fan Resale.