Wicked
Wicked, the untold story of the witches of Oz, is "Broadway's biggest blockbuster" (The New York Times) and is now playing across the country.

Whether you're completely "green" or know all the words to "Popular," seasoned fans as well as first-timers can experience Wicked in a personalized way that's sure to cast a lasting spell!

Choose from several exciting new options to enjoy this smash hit musical - get premium seats and exclusive extras to create a truly magical package.
Prices include a $2.00 Facility Fee.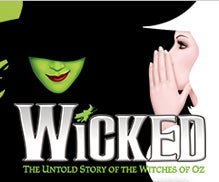 Click on the city below to buy tickets for WICKED now:
Special Ticket Offers
Premium Seats
Buy now to get some of the best orchestra seats in the house! Select your city, choose your event and look for 'Premium Seating' to find the perfect tickets.
Available in New York and Other National Tour Cities
Special Extras
"Behind the Emerald Curtain" Tours
"Behind the Emerald Curtain" is an exclusive, one-of-a-kind look at Wicked. Cast members will take you on a fascinating journey behind the scenes of Broadway's musical phenomenon!
Available in New York
Wicked Alert Sign-Up
To Sign Up for Wicked TicketAlerts, Updates and Newsletters, Enter Your Information:
Please Note: Wheelchair transfers are not possible without navigating steps for all seats in the Gershwin Theatre with the exception of wheelchair accessible seats available through the Box Office Only.