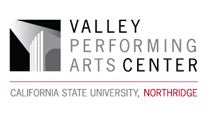 Valley Performing Arts Center

Tickets

18111 Nordhoff Street,

Northridge

,

CA

91330

Valley Performing Arts Center Tickets and Event Dates
Related Links
Venue Details
Directions
US 101 West
Exit at Balboa Blvd. (Exit 21) and turn right onto Balboa Blvd.
Turn left at Nordhoff St.
Turn right at Zelzah Ave.
Turn Left at Prairie Ave. and park in the G3 Structure

US 101 East
Exit at Balboa Blvd. (Exit 21 - Recommended exit) and turn left onto Balboa Blvd.
Turn left at Nordhoff St.
Turn right at Zelzah Ave.
Turn Left at Prairie St. and park in the G3 Structure

Exit at Reseda Blvd. (Exit 23)
Note: Freeway signage will indicate to exit at Reseda Blvd. although Balboa is the recommended exit
Turn right at Nordhoff St.
Turn left at Zelzah Ave.
Turn Left at Prairie St. and park in the G3 Structure

CA 118 West
Exit at Balboa Blvd. (Exit 40A) and turn left onto Balboa Blvd.
Turn right on Plummer St.
Turn left at Zelzah Ave. (end of street).
Turn right at Prairie St. and park in the G3 Structure

US 118 East
Exit at Balboa Blvd. (Exit 40 – Recommended exit) and turn right onto Balboa Blvd.
Turn right on Plummer St.
Turn left at Zelzah Ave. (end of street).
Turn right at Prairie St. and park in the G3 Structure

Exit at Reseda Blvd. (Exit 38)
Note: Freeway signage will indicate to exit at Reseda Blvd. although Balboa is the recommended exit
Turn right onto Reseda Blvd.
Turn left onto Lassen
Turn right onto Zelzah Ave.
Turn right at Prairie St. and park in the G3 Structure

Interstate 405 North
Exit at Nordhoff St. (Exit 69) and turn left onto Nordhoff St.
Turn right at Zelzah Ave.
Turn Left at Prairie St. and park in the G3 Structure.

Interstate 405 South
Exit at Nordhoff St. (Exit 69) and turn right onto Nordhoff St.
Turn right at Zelzah Ave.
Turn left at Prairie St. and park in the G3 Structure

From the Western San Fernando Valley
Take Nordhoff St. East towards Zelzah Ave.
Turn left at Zelzah Ave.
Turn Left at Prairie St. and park in the G3 Structure



Parking
Parking for the Valley Performing Arts Center and Plaza del Sol Performance Hall is located in the G3 parking structure. The G3 structure is accessed by entering Prairie Street from Zelzah Avenue.

All vehicles, including those with handicap placards, must display a valid permit to park on campus. Parking permits are $6.00 per vehicle. Permits are required 24/7 and can be purchased from permit dispensers within the parking lots and parking structures or from on-site parking attendants upon entering the parking facility.

Public Transportation
For information on bus service to the Valley Performing Arts Center, please contact the MTA at 1-800-COMMUTE or visit: www.metro.net. You can also use the Metro's Trip Planner for those using public transportation.

Also, the Metrolink's Ventura County Line stops at the Northridge Station located about 1 mile from the Valley Performing Arts Center then you can connect via a Metro Buses, LADOT - Dash and the Cal State University Northridge Shuttle.


Box Office Numbers
Phone: 818-677-3000
Fax: (818) 677-3076
Groups of 10 or more can take advantage of special rates for selected events. Contact (818) 677-3000 for details.


Box Office Hours
Mon - Sat: 10:00am - 4:00pm


Types of Payment Accepted
Cash, Check, Visa, MasterCard, American Express and Discover are accepted.


Will Call
Will Call is available for pickup beginning two hours prior to showtime at the Ticket Office. Tickets will only be released if you have a valid photo ID and the Ticketmaster order number.


Accessible Seating
For information on accessibility call the ticket office. Visitors requiring accommodation, call venue info number at least two weeks in advance.


Children Rules
There are no child/youth discounts at the present time. Children over age 5 are welcome at most events, and regardless of age, must have a ticket. Infants on laps are not permitted unless specified. Inquire when purchasing tickets on age appropriateness for specific events.


Miscellaneous
CSU Northridge Students
Only Cal State Northridge students can purchase tickets at a discount.
CSU Northridge Staff & Faculty
Staff & Faculty members with a valid CSUN ID may purchase single tickets at a discount.*
* Only single tickets at the A, B, and C level price points are available to students, faculty, and staff at the discounted rate. Limit 2 discounted tickets per event. Please visit the Ticket Box Office to provide identification before purchase.



<! fixed bug 75664 -->