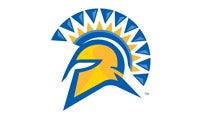 Spartan Stadium

Tickets

1257 S. 10th Street,

San Jose

,

CA

95112

Spartan Stadium Tickets and Event Dates
Venue Details
Directions
FROM SOUTHBOUND 280 (San Francisco, Los Altos, Cupertino:
* Exit onto Route 87 (Guadalupe Parkway) southbound
* Exit Alma
* Turn left on Alma

FROM SOUTHBOUND 101 (San Francisco, Burlingame, Palo Alto):
* Exit at Story (west)
* Turn right onto Story
* Turn left onto Senter
* Turn right onto Alma

FROM SOUTHBOUND 87 (Sunnyvale, North San Jose):
* Exit at Alma
* Turn left on Alma

FROM NORTHBOUND 17 (Santa Cruz, Los Gatos):
* Exit onto 280 southbound
* Exit onto Route 87 (Guadalupe Parkway) southbound
* Exit Alma
* Turn left on Alma

FROM SOUTHBOUND 880 (Berkeley, Oakland, Hayward, Fremont):
* Exit onto 101 southbound
* Exit at Story (west)
* Turn right onto Story
* Turn left onto Senter
* Turn right onto Alma

FROM SOUTHBOUND 680 (Sacramento, Concord, Walnut Creek):
* 680 will become 280 Northbound at the 101 interchange
* Exit 10th Street
* Turn left onto 10th Street

FROM NORTHBOUND 101 (Hollister, Gilroy, Monterey):
* Exit at Tully
* Turn right onto Senter
* Turn left onto Alma

FROM NORTHBOUND 87 (South San Jose, Route 85):
* Exit at Curtner
* Turn right onto Curtner
* Turn left on 7th Street or 10th Street




Parking
PARKING FOR SJSU SPARTAN FOOTBALL GAMES:
$20 for regular sized vehicles; $30 for tailgate parking.
$40 for buses / RV / Over-sized vehicles; $60 for tailgate parking.

PARKING FOR NON SJSU ATHLETIC EVENTS:
$15 for regular sized vehicles
$30 for buses / over-sizer vehicles

OTHER EVENTS PARKING PRICES MAY VARY.

Parking lots regularly open are as follows:
(Additional parking lots may be opened for events with large attendance)

Lot 1 - located at 7th Street across from the west gate entrance (between Alma and Humbolt)

Lot 5 - located at 10th Street directly in front of the east gate entrance (between Alma and Humbolt)

Lot 6 - located at 10th Street across from the east gate entrance (between Alma and Humbolt)

Buses may park in Lot 6A - on Humbolt at 10th Street.


Public Transportation
PUBLIC TRANSPORTATION:
The Valley Transportation Authority (VTA) bus routes offer convenient
service to and from Spartan Stadium.

Call (408) 321-2300 for more information. All buses offer disabled access.




Box Office Hours
One box office is located at each of the three sides of the stadium:
West Side: 7th St between Humbolt and Alma
East Side: 10th St between Humbolt and Alma

Will call tickets are available for pickup at the East Box Office.

West & East Side Hours: 3 hours prior to kickoff on game days.



Will Call
Will Call is located only on the East Side of the Stadium in the booths adjacent to the East Box Office (sales window).

Will Call opens the same time at the box offices on game day, 3 hours before kickoff.




Accessible Seating
Handicap-access seating is available in section 109, 113, 107, 115, and the north end zone.

These areas are accessible by ramp only.

No escalators or elevators are located within the stadium.



General Rules
The following items are PROHIBITED from being brought into Spartan Stadium. Security at the entry gates will conduct a bag search and refuse entry to any persons possessing restricted items. Security may also conduct a pat down search. Receptacles will be available if guests would like to discard prohibited items, otherwise they may take the items back to their vehicle.

PROHIBITED ITEMS:
Back packs, bags & purses larger than 14"x14"x6"
Hard sided coolers of any size
Glass containers of any kind
Aluminum cans
Alcoholic beverages
Picnic baskets
Lawn chairs
Weapons of any kind (including off-duty police weapons, pipes of any size, or chains)
Poles or sticks longer than 24" and/or larger than 1/4" in diameter (pencil width)
Fireworks
Aerosol cans
Leaflets (must be approved in advance by Spartan Shops Stadium Management)
Animals (except service animals)
Bicycles, frisbees, beach balls
Plastic horns and air horns
Scooter
Roller skates of any type
Umbrellas


Children Rules
Children 24 months and younger are not required to purchase a ticket and may sit on a parents lap.



<! fixed bug 75664 -->