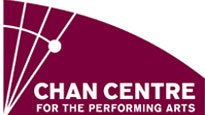 Chan Centre for the Performing Arts

Tickets

6265 Crescent Rd., University Of British Columbia

,

Vancouver

,

BC

V6T 1Z1

Chan Centre for the Performing Arts Tickets and Event Dates
Related Links
Venue Details
Directions
From downtown, proceed west on West 4th Avenue, which becomes Chancellor Blvd. and eventually merges with NW Marine Dr. Continue west past UBC Gate 3 to the Rose Garden Parkade. The Chan Centre is on your left.


Parking
Ample parking is available at UBC's Rose Garden Parkade, located off NW Marine Drive, immediately west of the Chan Centre. Additional paid parking is available on the UBC Campus.

The Rose Garden Parkade is adjacent to the Chan Centre to the west. The entrance is off Marine Drive.

The Rose Garden Parkade rate is $10.00 during most events held in the Chan Shun Concert Hall. Payment is required upon entering, and the gates will be up for the exit until one hour after the event has ended.
Audience members are encouraged to arrive as soon as possible to ensure ample time for parking prior to the start of an event.

Public Transportation
From the downtown core, take the #44, #4 or #14 directly to the UBC campus or the #480 bus from Richmond Centre to UBC, #43 express bus from Joyce Skytrain Station to UBC, the #84 express bus from VCC-Clark Skytrain station to UBC or #9 & #99 express bus from Broadway-Commercial Skytrain Station to UBC. The #25, (connection at Nanaimo Skytrain Station) #33, (connection to 29th Ave Skytrain Station) and #41 (connection at Joyce Skytrain Station) also travel to the UBC campus.
The UBC bus loop is located on Wesbrook Mall and Student Union Blvd., behind the student union building. From there head west on student union blvd until you reach East Mall, then turn right until you reach Crescent Rd. It is approximately a 10 minute walk.

For more information please contact Translink at 604.953.3333 or visit the Translink web site at www.translink.bc.ca.


Box Office Numbers
Ticket Office: 604.822.2697
Customer Service Phone: 604.822.9197
Fax Number: 604.822.1606


Box Office Hours
Regular Box Office Hours:
Tuesday - Saturday: 12 noon - 5pm
Regular Performance Days: 12 noon - intermission
Sunday/Monday Performance Days: 2.5 hours prior to show start - intermission
Closed on statutory holidays

Tickets to the Chan Centre are available at all Ticketmaster Ticket Centres or Charge-By-Phone at 1-855-985-5000. Tickets may also be purchased at the Chan Centre Ticket Office. There is no service charge when purchasing tickets directly at the Chan Centre Ticket Office (facility fee applies).

Tickets to theatre at UBC events are available at the Frederic Wood Theatre Box Office (6354 Crescent Road), between 10:00am to 4pm, Monday to Friday or by calling 604.822.2678


Will Call
Box Office Location:
Located on west side of building across from the Rosegarden parkade.

Note: Please arrive at box office early if picking up tickets.

Customers must present the actual credit card used to place the order and photo ID.


Accessible Seating
Accessible Seating:
The Chan Centre is fully accessible to people with disababilities. If special arrangements need to be made, customers may contact the Chan Centre at 604-822-2697.
Wheelchair and companion seats are beside each other.

The seats in the orchestra level right side are easily accessible and the left side is easily accessible as well, but a little further away.

Dress boxes 5 and 15 are also available, there is elevator access on the left hand side of the house.
If patrons require a wheelchair they should go to the coat check (only 1 wheelchair available).

Hearing Devices:
Infrared Hearing System headsets are available, free of charge, for the hearing impaired. Please contact the Chan Centre's Customer Service Department at 604.822.9197 to make arrangements or for additional details.



Children Rules
All patrons must have a ticket, children 2 years & over must have a seat.
Booster Seats:
Booster seats are available, free of charge at the Chan Centre's Coat Check.


Miscellaneous
Seating Capacity:
Chan Sun Concert Hall: 1100 to 1400 seats, depending upon configuration
Telus Studio Theatre: 180 to 288 seats
Royal Bank Cinema: 159 seats

Chan Shun Concert Hall Seating Layout:
Orchestra:
The orchestra begins at Row AA to Row CC (an area commonly referred to as 'the apron'). Row A, which is level with the stage, follows Row CC. The orchestra goes back to Row M. Seats are numbered (from left to right), 1 to 32, although not all rows contain 32 seats.

Parterre:
The parterre is on the main floor, about 5 steps up from the orchestra (similar to the mezzanine at the Queen Elizabeth Theatre). It fans out all around the orchestra, left, centre and right.
The left parterre starts at Row A and goes to Row F. Seat number 101 is closest to the stage, and seat 125 is on an aisle closest to the centre.
The right parterre also starts at Row A and ends at Row F. Seat 195 is closest to the side of the stage, and seat 171 is on an aisle closest to the centre..
The parterre starts at Row A and goes to Row H.

Dress Circle/Dress Boxes:
The centre dress circle starts at Row A and goes to Row E.
The odd numbered boxes are on the left and the even numbered boxes are on the right.
In the two dress boxes closest to the stage (1 & 2), Row B is in front of Row A.

Upper Circle/Upper Boxes:
The upper circle is the highest level in the theatre, with rows going from A - E. There are also boxes on this level similar to the dress boxes.

Concessions:
Located in the beautiful glass lobby.
Full-service bar with premium liquors, beer, wine and soft drinks.
Full coffee bar (cappucinos, lattes, etc.)

Gift Certificates:
Gift Certificates are no longer available at the Chan Centre. A customer may buy a TM Gift Certificates and use it at any Ticketmaster location for Chan events, however, no gift certificates can be redeemed at the Chan Centre.

Tours:
Public tours of the Chan Centre's various facilities are available by appointment only. To schedule a tour please call the tour hotline at 604-822-1241.

Booking Info:
For information on renting a venue at the Chan Centre, please call Wendy Atkinson, Programming Manager at 604.822.9197.



<! fixed bug 75664 -->