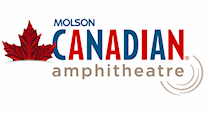 Molson Canadian Amphitheatre

Tickets

909 Lakeshore Blvd. W., Ontario Place

,

Toronto

,

ON

M6K 3L3

Molson Canadian Amphitheatre Tickets and Event Dates
Related Links
Venue Details
Directions
Please be advised that there are large events and construction projects scheduled in the surrounding areas of the Molson Canadian Amphitheatre throughout the 2015 season, and as a result traffic and parking will be affected. It is strongly recommended that fans allow themselves extra time to get to and from events, and plan travel routes accordingly. As a convenient alternative to driving, fans are encouraged to take public transportation (GO Transit, TTC) to events.

Pan Am 2015 will be operating in the area surrounding the Molson Canadian Amphitheatre from July 8th – July 26th. Please review the below advisory in order to ensure a smooth arrival and departure from the venue.

-During the Pan Am Event dates (July 11-25), Molson Canadian Amphitheatre and TD Echo Beach ticket holders can enter through CIBC Pan Am Park
(CNE grounds). You will need to pass through a Security screening point.

-The gates to the Pan Am Park will open at 10: 00 am and close at 10:00pm. All people leaving the venue will be directed east and west along the Martin Goodman trail to access parking and transit.
The pedestrian bridges leading to Ex Place will be closed when Pan Am Park is not operational.

If you do not wish to enter the Molson Canadian Amphitheatre via Pan Am Park, please follow the directions below.
-TTC: If travelling from the East heading West towards Molson Canadian Amphitheatre, exit at Fleet St. and walk South on Strachan Ave. Cross Lakeshore Blvd and follow the path heading West towards the venue. If travelling from the West exit at Dufferin Gates and follow British Columbia Dr. West towards Lakeshore Blvd. Cross Lakeshore Blvd and follow the path East towards the venue.
-GO Train: Please walk East towards Strachan Ave then proceed South on Strachan. Cross Lakeshore Blvd and follow the path heading West towards the venue.
Please visit GOtransit.com or ttc.ca for scheduling information and Toronto.ca to view a full list of expressway and major route closures.
For your safety, when walking or biking to and from Molson Canadian Amphitheatre, please only cross Lakeshore Blvd at designated crosswalks.

Please use the Pan Am Trip Planner below for up to date travel times and directions to and from the venue

https://www.2015gamestripplanner.ca/

Please take a minute to view the below links for further information

http://www.toronto2015.org/venue/ontario-place-west-channel

http://images.toronto2015.org/system/asset_pdfs/3053/original/VTOM-V1-PAP.pdf?1421963033

http://images.toronto2015.org/system/asset_pdfs/2423/original/Road-Race-Closures.pdf

The directions listed below are for planning purposes only, and may change depending on construction projects, traffic, weather and/or surrounding special events.


Driving Directions

Travelling from the West:
Follow QEW/GARDINER EXPRESSWAY E. Eastbound towards Toronto. From GARDINER EXPRESSWAY E., take the LAKE SHORE BLVD / JAMESON AVE exit.  Follow LAKE SHORE BLVD Eastbound for about 1.6 km, to the Molson Canadian Amphitheatre.

Travelling from the East:
Follow the DON VALLEY PARKWAY S., keep right at the fork and follow signs to GARDINER EXPRESSWAY W. Merge onto GARDINER EXPRESSWAY W. From GARDINER EXPRESSWAY W, take the SPADINA AVE / LAKE SHORE BLVD exit. Follow LAKESHORE BLVD westbound for about 2.2 km, to the Molson Canadian Amphitheatre. 

For the most up-to-date road restriction and traffic information:
Visit the City of Toronto website at Toronto.ca
Visit the CP24 Traffic Centre website at  www.cp24.com/commuter-centre/traffic

Enter the Carpool Zone - a free on-line service that makes finding the right match for your carpool a snap. Learn more by visiting: www.smartcommute.ca


Parking
Event parking is very limited and not guaranteed.
Parking may occasionally be found in the Ontario Place parking lots at a rate of $25 per event, but space is very limited.
Alternative parking is available at Exhibition Place, Direct Energy Centre, Fort York National Historic Site, or in the Liberty Village area (10 – 15 min walk from the venue).

Green P Parking Lot Locator: http://parking.greenp.com/find-parking/
Impark Parking Lot Locator: http://www2.impark.com
Exhibition Place Parking: http://www.explace.on.ca/visiting/directions__parking/parking.php

Public Transportation
Travelling by GO Transit:
Take the GO Train to EXHIBITION station, then walk South through the Exhibition grounds, over the Lake Shore bridge, to the Molson Canadian Amphitheatre. Most trains run every 30 minutes.

For up-to-date GO Transit information:
Call (416) 869-3200 or 1-888-438-6646 or visit their website at www.gotransit.com

Travelling by TTC:
- From UNION station: Take the Harbourfront 509 streetcar to EXHIBITION station. Walk South through the Exhibition grounds, over the Lake Shore bridge, to the Molson Canadian Amphitheatre.
- From BATHURST station: Take the 2 BLOOR-DANFORTH SUBWAY line to BATHURST station. From BATHURST station take the Bathurst 511 streetcar south to EXHIBITION Station. Walk South through the Exhibition grounds, over the Lake Shore bridge, to the Molson Canadian Amphitheatre.
- From DUFFERIN station: Take the 2 BLOOR-DANFORTH SUBWAY line to DUFFERIN station. From DUFFERIN station take the SOUTH - 29 DUFFERIN bus towards EXHIBITION (DUFFERIN GATE). Exit at MANITOBA DR AT NOVA SCOTIA AVE EAST SIDE. Walk South through the Exhibition grounds, over the Lake Shore bridge, to the Molson Canadian Amphitheatre.

For up-to-date TTC information & schedules:
Call (416) 393-INFO or visit their website at www.ttc.ca

For public transit updates and commuter tips:
Visit the CP24 Transit Centre website at www.cp24.com/commuter-centre/transit


Types of Payment Accepted
Types of Payment Accepted Cash, Interac, American Express, MasterCard, Visa


Will Call
Box Office Hours
Event Days Only - 11:00am to 10:00pm 

Will Call
Box Offices are located at the Ontario Place Main Gate. 
Regular ticket will call pick-ups can take place from 11:00am to 9:30pm on the day of the show - please arrive early. Customers must present the actual credit card used to place the order and photo ID. 


General Rules
Allowable / Restricted Items - General Venue Policy (subject to change per event at the request of the Tour):

Items you can bring: 
Homemade food wrapped in plastic, blankets, low profile lawn chairs, only small collapsible umbrellas, one sealed plastic bottle of water, plastic refillable water bottles and non professional cameras (point & shoots, disposables).
 
Restricted items:
Alcohol, narcotics and illegal substances, cans, glass bottles, containers of any kinds, laser pens/pointers, audio/video recording devices and pro cameras with detachable lenses, glow sticks and any object that can be used as a projectile or weapon.

General Rules​
No smoking within any seating or standing area of the Amphitheatre
No re-entry
No strollers 

Children Rules

Children 24 months of age and under do not require a ticket if seated on a lap. 

Wheelchair Accessibility & Special Needs

Wheelchair accessible seating is located at the back of sections 301,302,303,304,305 and 403,405,407. No access to 100/Floor level. 
Washrooms and facilities are fully accessible. 
All accessible seating is available through your local Ticketmaster Charge-by-Phone or Ticket Centre. 
Note: For all wheelchair seating located in section 303, 403, 405 and 407, customers should be aware that if people in their section stand up, their view will most likely be obstructed. 

For other special needs, please visit our Guest Services pavilion located just inside the entrance. Also, feel free to call and speak to a customer service representative with any questions or concerns ahead of time at (416) 260-5600.

Hearing Devices
Hearing devices are not available at this venue.​

Fan Assistance
For assistance at events, please visit our Guest Services pavilion located just inside the venue entrance.

For general inquiries, questions or concerns:
Email InfoToronto@LiveNation.com , or call 416-260-5600.
Visit the Molson Canadian Amphitheatre venue website for show day traffic alerts, transportation updates, weather forecasts, event details and more!
www.livenationvenue.com/molson-canadian-amphitheatre


<! fixed bug 75664 -->