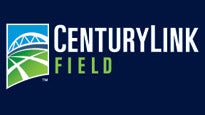 CenturyLink Field

Tickets

800 Occidental Ave S,

Seattle

,

WA

98134

CenturyLink Field Tickets and Event Dates
Related Links
Venue Details
Directions
From North and South of Seattle:

Outside City Limits:
Take I-5 exit marked Safeco Field (exit 164 from the north and 164B from the south) Follow the signs to Fourth Ave South and turn right. Turn right at the first light on to South Royal Brougham. Occidental runs north and south off of South Royal Brougham.

Inside City Limits:
From the north, follow Aurora Ave southbound to First Ave exit ramp (exits from left lane). Follow First Ave southbound to South Royal Brougham Way. Turn right from First Ave or left from Fourth Ave on to South Royal Brougham. From the south, turn right from First Ave or left from Fourth Ave onto Royal Brougham.

From the East:

Via Interstate 90:
Follow the signs to Fourth Ave South and turn right. Turn right on to South Royal Brougham way. Occidental Street runs north and south off of South Royal Brougham.

Via State Route 520:
Exit on to Interstate 5 southbound. Take exit 164. Follow signs to Fourth Ave South and turn right. Turn right on to South Royal Brougham.


Parking
CenturyLink Field is ideally situated at the junction of I-5 and I-90, with parking for 3,100 automobiles onsite, 8,400 in surrounding lots, and 15,000 in lots downtown. Parking may be limited or restricted on
game days, particularly in the International District and Pioneer Square where many lots are reserved for regular customers.

There are three parking lots managed by CenturyLink Field: the North Lot, CenturyLink Field Event Center Garage, and Union Station Garage. Lots managed by International Parking Management. The entrances to these three garages are as follows:

CenturyLink Field Event Center Parking Garage: Royal Brougham Way South, across from Safeco Field.

North Lot: 2nd Ave. South and South King Street

Union Station: 4th Ave. South across from the Weller Street Pedestrian Bridge

Parking costs range between $5 - $25, depending on the event.

For further information or to order season parking passes for Seahawks games please call the Seahawks ticket office at 1-888-NFL-HAWK (1-888-635-4295) or visit www.centerfieldparking.com.

** Passenger Drop-Off **
The passenger and disabled drop-off zone is located off the intersection of Railroad Ave. at Occidental Street, which can be accessed off 1st Ave. South. Drivers may drop off their passengers adjacent to the stadium prior to parking. Similar access will be provided after every major event.

Disabled parking is available in the CenturyLink Field Event Center garage the North Lot, and the Union Station garage.

For Seahawks games, majority of these spaces are pre-sold as season parking passes.

Public Transportation
CenturyLink Field is located just south of downtown Seattle. Over 10 transit routes pass within 3 blocks of the site and operate at least every 30 minutes including weekends. Regularly posted fares will apply. For rider information, call VOICE: (206) 553-3000, TTY/TDD: (206) 684-1739 or visit Metro's website at http://transit.metrokc.gov.


Box Office Numbers
(206) 381-8057.


Box Office Hours
Varies by event.

Seahawks:
3 hours prior to game.

For Concerts and other events:
Generally 90 minutes prior to event.

The CenturyLink Field & CenturyLink Field Event Center is located in the Northwest corner of the Stadium. Box Office hours vary by season.





Types of Payment Accepted
Visa, MasterCard, American Express, Discover and Cash.


Will Call
LOCATION: Northwest corner of the CenturyLink Field


WILL CALL OPENS (SEAHAWKS FOOTBALL): 2 Hours prior to kickoff.

Will call locations & times vary for other events. Please call the Stadium offices at (206) 381-8057 (Mon-Fri: 9am-5pm) for specific event information.




Accessible Seating
There are disabled seats (wheelchair convertible) dispersed through all areas and price levels of Qwest Field. Disabled seating and access for all is fully compliant with the Americans with Disabilities Act, (ADA).


General Rules
BAG SEARCH:
Due to NFL policy, no soft-sided containers, coolers, or large bags (bigger than 12" X 12" X 12") are permitted into CenturyLink Field on game days. Guests may bring in items in small, clear plastic bags. Event security is required to open all bags at the gates for
a visual inspection before allowing guests' entry.

BANNERS & SIGNS:
Banners & signs are permitted in the stadium as long as they do not obstruct the view of guests or block stadium signage. Banners & signs must be event related, in good taste, and not commercial, political, or offensive in nature. All signs must be hand-held; signs on sticks larger than 18 inches are not permitted. CenturyLink Field reserves the right to remove any sign.

BOTTLES AND CANS:
No bottles, cans or outside beverages (including water) are permitted in CenturyLink Field. Exceptions are made for baby bottles, health-related materials and unopened, soft-sided, single-serve containers (such as
small milk cartons, juice boxes, etc.)

CAMERAS, AUDIO AND VIDEO RECORDERS:
Personal still photography is permitted during Seahawks games. However, flash photography, video cameras and support tools (such as tripods, large lens, etc.) are not allowed.

CELL PHONES:
The use of cellular phones is permitted inside provided they do not interfere with other guests' enjoyment of an event.

ELEVATORS:
Two elevators are located in each of the northwest, northeast, southeast, and southwest corners of the stadium, providing service to all levels of the facility. Elevators are also located in the north and south ends of the parking garage and the southeast corner of the Event Center.

FAN CODE OF CONDUCT:
We are committed to creating a safe, comfortable and enjoyable experience for our guests at CenturyLink Field & Event Center. The facility's staff will proactively intervene to support an environment where event patrons, their guests, and other fans can enjoy the event experience.


FOOD AND BEVERAGE POLICY:
Fans may bring food into the stadium on game days in clear plastic bags only, but no beverages will be
allowed per NFL policy. Coolers and backpacks are also prohibited on game days.

PROHIBITED AND RESTRICTED ITEMS:
The following items are not allowed inside the stadium:

* Alcohol
* Bottles and cans
* Illegal drugs
* Firearms/weapons
* Laser pointers
* Horns/whistles/noisemakers
* Signs or flags on sticks

RADIOS AND TELEVISIONS:
Radios and televisions are permitted in the stadium so long as they do not disturb other fans. For the benefit of others, fans listening to broadcasts are required to use headsets.

SMOKING/TOBACCO:
In compliance with state law (RCW 70.160), smoking is prohibited in all areas of CenturyLink Field and Event Center. Tobacco use of any kind is prohibited inside the stadium seating area.


STROLLERS:
Strollers are allowed in the stadium. During stadium events, strollers too large to be stored under a seat
may be checked at the nearest Spectator Services Center.

UMBRELLAS:
Umbrellas are permitted in the stadium provided they do not interfere with other guests' enjoyment of an event.



Children Rules
Children under the age of 3 are free but must sit on adult's lap.


Miscellaneous
GATES OPEN:
For Seahawk games, all gates will open two hours prior to kickoff. For other events, doors generally open 1 hour prior.

TOURS:
A behind the scenes walking tour of CenturyLink Field is available to all fans. Guests will tour many of the areas that are not open to the public during events – such as the press box, the playing field, and a luxury suite. For tour times and ticket prices call (206) 381-7582.


HAWKVISION
**********
First & Goal Inc. and the Seattle Seahawks provide the most technologically
advanced stadium experience in sports today, with a package of viewing
enhancements called HawkVision. HawkVision was designed, engineered, and built
to deliver video and graphic images of the highest resolution and clarity to
fans.

**** It includes:
The 44' wide by 50' high video board on the stadium's North Tower, the first
portrait layout in the NFL.
The 84' wide by 24' high video board in the south end zone, which will
display video in a super landscape format.
High-definition television sets in suites, club lounges and at concession
stands.

Together, the HawkVision video boards represent some of the largest viewing
surfaces in the NFL.

BIRTHDAY/ANNIVERSARY RECOGNITION:
*********************************
For information on the birthday and anniversary recognition packages at Seahawks
games, contact Seahawks Marketing at 425-203-8111.

BABY CHANGING STATIONS:
***********************
Located in all restrooms.


<! fixed bug 75664 -->