Top 5 Most Popular NHL® Matchups By Demand


According to the NHL Ticket Exchange "Buzz Index"

The NHL Ticket Exchange™ "Buzz Index" utilizes a proprietary algorithm incorporating site traffic, ticket demand, sales volume, and ticket revenue to calculate each game's popularity for the week.
NHL Ticket Exchange™ by Ticketmaster

is the only League-approved ticket resale
marketplace with the exclusive ability to electronically validate and reissue every hockey ticket sold.

NHL Ticket Exchange™ powered by Ticketmaster offers:
Guaranteed authentic game tickets - most available up until game time
A wide selection of tickets from single game and season ticket holders
Interactive seating maps allowing fans the ability to search for tickets by location, price, and number of tickets
Ticketmaster's print-at-home ticket delivery available on most orders, enables you to print your tickets within minutes
Tips for Buying Hockey Tickets
BEWARE of buying tickets from anyone selling them on the street or in front of the venue. Scalpers are typically unregulated, unlicensed ticket sellers, which leaves you unprotected from fraud, including stolen and counterfeit tickets.
BEWARE of buying tickets from unsecured Internet sites. Online auction sites, classified sites, and unofficial ticket resale sites can be risky business. Buyers have no concrete proof that sellers have the actual tickets and could be scammed out of a significant amount of money.
DO NOT use cash. Use a credit card or another secure type of payment. Confirm that the company you are purchasing from offers a customer guarantee as well as a refund policy.
*Tickets to home games for the Buffalo Sabres®, Colorado Avalanche®, Los Angeles Kings®, Montreal Canadiens®, Ottawa Senators®, and Philadelphia Flyers® currently are not part of the Ticketmaster® verification program.
NHL and the NHL Shield are registered trademarks and NHL Ticket Exchange is a trademark of the National Hockey League. NHL and NHL team marks are the property of the NHL and its teams. © NHL 2013. All Rights Reserved.
NHL Ticket Exchange™ In Action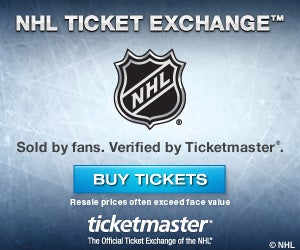 Helpful Links