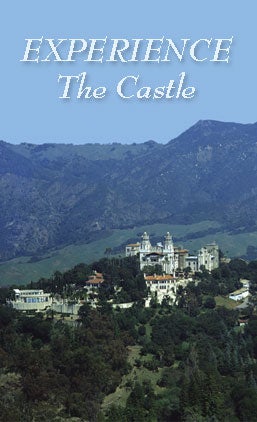 Hearst Castle Tours
Hearst Castle is one of the largest of approximately 5,000 historic house museums in the U.S., with one of the most sophisticated

guided tour programs

in the country.

Experience the Castle yourself.
Tour One

is recommended for first-time visitors as it provides a broad overview of the many facets of Hearst Castle and it is the least strenuous. Duration is 1 hour and 45 minutes which includes the bus ride to and from the castle.
Tour Two

focuses on the architectural elements and vast art collection in the main house, or Casa Grande. Featured rooms on this tour include; the Doge's Suite, "The Cloisters" which are four guest rooms flanked by open walkways, the Library, the Gothic Suite which occupies the entire third floor and includes Hearst's impressive private suite, library and office, and the Kitchen.
Tour Three

provides an overview of the construction and development of the Hilltop by contrasting the earliest guest house with the most recent addition, the North Wing.
Tour Four

not only concentrates on the beauty of the botanical gardens, but also provides a glimpse into some of the less familiar aspects of Hearst Castle.
The Evening Tour

is a special tour that allows visitors to experience the Castle at night as one of Hearst's own visitors might have. Available in Spring and Fall only, the Evening Tour features highlights from Tour One, Tour Two and Tour Four.