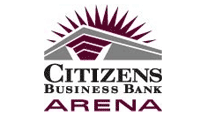 Citizens Business Bank Arena

Tickets

4000 E. Ontario Center Parkway,

Ontario

,

CA

91764

Citizens Business Bank Arena Tickets and Event Dates
Venue Details
Directions
Citizens Business Bank Arena
4000 E. Ontario Center Parkway
Ontario, CA 91764

The venue is located very close to the intersections of I-10 and I-15, in the Inland Empire.

Coming from the West, Start point: I-10 heading East
• Take I-10/San Bernardino Freeway East towards San Bernardino
• Take the HAVEN AVENUE exit
• Turn LEFT onto NORTH HAVEN AVENUE
• Turn RIGHT onto CONCOURS STREET
• The building and its parking lots will be located about a half mile up on the LEFT

Coming from the East, Start point: I-10 heading West
• Take I-10/San Bernardino Freeway West towards Los Angeles
• Take the MILLIKEN AVENUE exit
• At the end of the exit ramp, Turn LEFT onto MILLIKEN AVENUE
• Turn LEFT onto CONCOURS STREET
• The building and its parking lots will be located about a half mile up on the RIGHT

Coming from the North, Start point: I-15 heading South
• Take I-15/Ontario Freeway South towards Ontario
• Take the FOURTH STREET exit
• Turn RIGHT onto FOURTH STREET
• Turn LEFT onto MILLIKEN AVENUE
• Turn RIGHT onto CONCOURS STEET
• The building and its parking lots will be located about a half mile up on the RIGHT

Coming from the South, Start point: I-15 heading North
• Take I-15/Ontario Freeway North towards Barstow
• Exit on the RIGHT SIDE ramp to I-10 San Bernardino Freeway WEST
• Take I-10/San Bernardino Freeway West towards Los Angeles
• Take the MILLIKEN AVENUE exit
• At the end of the exit ramp, Turn LEFT onto MILLIKEN AVENUE
• Turn LEFT onto CONCOURS STREET
• The building and its parking lots will be located about a half mile up on the RIGHT


Parking
The arena has over 3,500 parking spaces on property, including parking for guests with disabilities. Prices vary by event. Please call the venue for specific event parking prices and information.


Box Office Hours
Box Office Hours:

Monday – Friday 10a-6p
Saturday 10a-2p
Closed Sundays and major holidays, unless there is an event. Then the box office will open 3 hours prior to the event.


On day of show, the ticket windows will remain open until the main act takes the stage or at such time that traffic subsides.


Types of Payment Accepted
Cash, AMEX, MasterCard and VISA accepted


Will Call
Will Call is located at the Box Office on the east side of the building near the NE Entrance.

On day of show, Will Call opens two hours prior to the event.



Accessible Seating
Accessible seating is available in the last row of the following sections: 102, 103, 104, 105, 106, 108, 112, 114, 115, 116, 117, 118, 120, 121, 122; 201, 202, 203, 204 and 205.

Elevators outside sections 103/203 and 114/214.

Will identify areas for hearing impaired as needed.


General Rules
FAN CODE OF CONDUCT:
The venue works to provide a safe, enjoyable and pleasant environment for all guests in attendance. As such, arena staff will ask all guests to adhere to the following code of conduct:

-Guests shall be respectful to all other guests, fans, participants, event officials, entertainers, athletes, arena staff and arena property.
-Guests shall not willfully and maliciously disturb a guest/employee and shall not interfere in other guests' enjoyment of the event.
-Guests who drink alcoholic beverages shall do so in a responsible manner.
-Guests shall smoke only in designated external areas.
-Guests shall refrain from using offensive language, making obscene gestures, wearing obscene or indecent clothing, throwing projectiles of any kind and possessing prohibited items.
-Guests shall never enter the playing or performance area, or interfere with the progression of the event in any fashion.
-Guests shall comply with the direction and instructions of venue staff.
-Guests are responsible for their own good time by immediately reporting inappropriate behavior to the nearest usher or building liaison.
-Any other conduct deemed by the venue to be inappropriate to the peace and good order of events or which may adversely affect the safety or persons or property will be handled by arena staff in its sole discretion.



The following items are NOT permitted:
Aerosol Cans
Animals/Pets (except service animals)
Audio/Video Recording Equipment
Balloons, Beach Balls or Related Items
Cans, Bottles, Glass or Other Beverage Containers
Chains, Studded Bracelets, etc.
Coolers or Ice Chests
Illegal Drugs
Large Bags and Purses
Laser Pens and Pointers
Noisemaking Devices (i.e. whistles, air horns)
Outside Food, Beverage, Bottled Water, etc.
Professional Photography Equipment
Poles/Sticks to Display Flags, Banners, etc.
Skateboards, Rollerblades, Bikes, etc.
Unapproved pamphlets, fliers, handbills, etc.
Weapons of any kind (i.e. pepper spray, tear gas, handcuffs, stun guns, etc.)
Any Other Item deemed inappropriate or dangerous by the venue in its sole discretion
(This list is subject to change at any time.)
Smoking is not allowed in the building.

NO RE-ENTRY


Children Rules
All guests two years and older must have a ticket. Children less than two years old may enter without a ticket but must sit on a guardian's lap.

PLEASE NOTE: Some events will require all attendees regardless of age to present a ticket for entry. Please check the event's ticket policies at the time of purchase.


Miscellaneous
Beer to be sold out of the concessions stands. Liquor available in the suites, VIP Club and Sky Box Bar – limited access to these locations.

There are five permanent concessions stands.


Nearby restaurants:
• American: BJ's Restaurant & Brewery, 11520 Fourth St, Rancho Cucamonga, CA, 91730, 909-581-6750, bjsrestaurants.com/locationdetail.aspx?lcID=29 (web site)
• Chinese: Panda Inn, 3223 Centre Lake Dr, Ontario, CA, 91761, 909-390-2888, pandainn.com
• Cuban: Wapango, 7881 Monet Avenue, Rancho Cucamonga, CA, 91739, 909-463-2830 for general assistance at Victoria Gardens, victoriagardensie.com/go/dirListing.cfm?FL=w#map
• Deli: Gandolfo's NY Deli, 9090 Milliken Avenue, Suite 160, Cucamonga, CA, 91730, 909-758-9000, 909-758-9001 fax, gandolfosdeli.com
• French: Bellisimo, 11849 Foothill Blvd., Cucamonga, CA, 91730, 909-948-0948
• Indian: Haandi, 7890 Haven, Rancho Cucamonga, CA, 91730, 909-581-1951
• Italian: Rosa's, 425 N. Vineyard Ave., Ontario, CA, 91764, 909-937-1220
• Japanese: Wabi Sabi, 11837 Foothill Blvd., Rancho Cucamonga, 91730, 909-581-1055
• Mediterranean: Daphne's Greek Café, 4261 E Inland Empire Boulevard, Suite B, Ontario, CA 91764, 909-980-5531, daphnesgreekcafe.com/index.asp
• Mexican: Las Campanas, 8106 Milliken Ave., Rancho Cucamonga, CA, 91730, 909-466-2766
• Pizza: Boston's, 11260 Fourth St., Rancho Cucamonga, CA, 91730, 909-980-8041
• Seafood: Market Broiler, 4557 E. Mills Circle, Ontario, CA, 91764, 909-581-0866
• Steakhouse: New York Grill, 950 N. Ontario Mills Dr., Ontario, CA91764, 909-987-1928
• Sushi: Tokyo Wako, 4480 E. Ontario Mills Dr., Ontario, CA 91764, 909-484-7200

Franchises within a mile of the Arena include: Applebees, Baja Fresh, El Pollo Loco, Chipotle Grill, Carl's Jr., Red Lobster, Olive Garden, McDonald's, Del Taco, Kentucky Fried Chicken, Burger King, Taco Bell, In & Out Burger, Starbuck's, El Torito, Tony Roma's, TGI Friday's, Beni Hana, Subway, Quiznos.


<! fixed bug 75664 -->