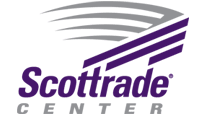 Scottrade Center

Tickets

1401 Clark Ave,

St Louis

,

MO

63103

Scottrade Center Tickets and Event Dates
Related Links
Venue Details
Directions
SCOTTRADE CENTER (FORMERLY KNOWN AS SAVVIS CENTER) IS LOCATED ON THE CORNER OF 14TH STREET AND CLARK AVENUE IN DOWNTOWN ST. LOUIS.

FROM I-64/US Hwy 40 EASTBOUND: Take the Chestnut at 20th Street Exit. Follow exit to Chestnut Street to parking facilities on the left. Or, from Chestnut, turn right at 18th Street and proceed to parking.

FROM I-44 EASTBOUND: Exit at Jefferson Avenue and proceed north to Chouteau Avenue. Turn right at Chouteau, then left at 18th Street, and follow signs to nearby parking facilities.

FROM I-55 NORTHBOUND: Take the Downtown Exit to Memorial Drive. From Memorial Drive, turn left at Market Street, then left at Tucker to Clark. At Clark, turn left or right to access area parking. (Turn right at Clark to reach the Scottrade Center Garage.) Or, follow signs to other nearby parking facilities.

FROM I-70 EASTBOUND: Take the Memorial Drive exit to Market Street. Proceed west on Market Street and turn left at Tucker to Clark. At Clark, turn left or right to access area parking. (Turn right at Clark to reach the Scottrade Center Garage.) Or, follow signs to other nearby parking facilities.

FROM ILLINOIS: Take I-64 / US 40 westbound to the 9th Street Exit. Turn left on Clark Avenue to access parking facilities along Clark Avenue east of Scottrade Center or proceed six blocks to the Scottrade Center Garage. Follow signs to reach other nearby parking facilities. (Illinois guests may also exit I-64 at the 21st Street at Market Exit just west of Scottrade Center, then proceed east to Scottrade Center.)



Parking
GUEST PARKING: Approximately 6500 parking spaces are available within 1,800 feet of Scottrade Center, including at 1,270-car garage situated immediately adjacent to the building. In addition, many nearby parking garages and surface lots offer affordable, convenient access to Scottrade Center. "Scottrade Center Parking" signs at the entrances to these parking facilities should help in directing Scottrade Center guests to appropriate parking. Ample street parking is also available.

BOX OFFICE PARKING: Short-term daytime parking for ticket purchases at Scottrade Center's Box Office is available on Clark Avenue in front of the Box Office (15 min. limit) as well as in the attached Scottrade Center Garage.

DROP-OFF / PICK-UP: Drop-off and pick-up for guests attending events at Scottrade Center should be made at the 14th Street Entrance at the east end of the building. After an event, 14th Street is closed by the St. Louis Police.

Public Transportation
METROLINK TRAIN: A MetroLink station is located directly south of Scottrade Center at 14th Street and Clark Avenue, between the Union Station and Busch Stadium MetroLink stations. For those traveling to Scottrade Center from other MetroLink stations, there are currently more than 2,000 free park-ride spaces along the MetroLink alignment. These include:

*North Hanley located between Geiger Avenue and I-270.
*UM-St. Louis South located on campus east of East Drive.
*Rock Road located at St. Charles Rock Rd and Kingsland.
*Wellston located S. of Page Ave. at Plymouth and Kingsland.
*Delmar located north of Delmar Blvd at Des Peres.
*Forest Park located at DeBaliviere Blvd and Forest Park Pkwy.
*East Riverfront located on S. Front St.
*5th and Missouri located on 5th St. at Missouri.
*Emerson Park located on N. 15th St.
*Washington Park located on N. 54th St.
*Fairview Heights located at 9320 Hwy 161.
*Swansea located on N. Illinois St.
*Belleville located on Scheel St.
*College located on Carlyle Ave.
*Shiloh-Scott located on Metro Plaza Lane.


Information on Metro Link is available at all MetroLink stations and by calling (314) 231-2345 in Missouri (TDD (314) 982-1515) and (618) 271-2345 in Illinois (TDD (618) 875-1200.

BI-STATE BUS: Scottrade Center lies along several city bus routes. For more information about bus routes and schedules, please call Bi-State transit information at (314) 231-2345 in Missouri (TDD (314) 982-1515) and (618) 271-2345 in Illinois (TDD (618) 875-1200) or visit them on the web at www.bi-state.org.com



Box Office Numbers
See Miscellaneous Info section for phone numbers.


Box Office Hours
REGULAR BOX OFFICE HOURS:
10:00am to 5:00pm and through the first 30 minutes of all events.
SUMMER BOX OFFICE HOURS:
10:00am to 4:00pm Monday-Friday.

When there is an event on Saturday, the box office will be open from 10:00am through the first 30 minutes of the event.
When there is an event on Sunday, the box office will be open from Noon through the first 30 mintues of the event.
DOORS OPEN:
1 hour prior to ticketed event time.



Types of Payment Accepted
Box Office Accepts Cash, Money Orders, MasterCard, Visa, American Express, Discover and Diners Club Card.


Will Call
Customer must present actual credit card used to place the order, the confirmation number and a photo ID.

Tickets held at Will Call may be picked up beginning 2 hours prior to show time.



Accessible Seating
PERSONS WITH DISABILITIES: Please call Scottrade Center at (314)622-5420 to reserve seats. To arrange seating for a group with special needs, please call Scottrade Center Group Sales at (314) 622-5454.

SEATING: Scottrade Center has an ample number of reserved seats for guests with disabilities dispersed throughout the plaza, club, mezzanine and penthouse levels as well as the event level for concerts. One companion seat is available for each seat reserved for a guest with a disability. These seats are provided in a wide variety of price ranges for all events. All seats for guests with limited mobility have been selected to allow convenient entry and exit, as well as for accessibility to restrooms and concession stands. In addition, Scottrade Center's private suites, club seats and private restaurant are accessible to guests with disabilities.

TICKET SALES: Tickets to Scottrade Center events are sold to persons with disabilities on a first-come, first-serve basis. When purchasing tickets, please inform your ticket seller about any needs that may require accommodation, including companion seating or use of a service animal.


General Rules
For information on specific events, phone (314)622-5400.

General rules are as follows:

STILL CAMERAS: Policy varies by event, is determined solely at the descretion of the show, and is subject to change without notice. Still cameras are permitted for St. Louis Blues games, most other sporting events and most family shows. Still cameras are not permitted for most concerts.

VIDEO CAMERAS: Are NOT permitted for most events.

RECORDING DEVICES: Are NOT permitted.

PROHIBITED ITEMS: Cans, bottles, coolers, plastic beverage containers, food or beverage of any kind, helium balloons, pets (other than service animals), laser pointers, sticks (excluding those on pennants or flags) and weapons of any sort.

SMOKING: For most events, Guests are permitted to exit and re-enter the Scottrade Center at the 14th Street Entrance (section 122) and the West Entrance (section 109). Smoking is permitted at these locations. Hand stamps and ticket stub are required to re-enter the building.



Children Rules
Discounts are offered for children on a show by show basis. For more information regarding specific performances, please phone (314)622-5400.



Miscellaneous
PHONE NUMBERS
DISABLED ACCESS LINE: (314) 622-5420
EVENT INFO: (314) 622-5435
GROUP SALES: (314) 622-5454
MAIN ADMINISTRATION: (314) 622-5400

WEBSITE: www.scottradecenter.com

CONCESSIONS: Nearly 40 concession stands and portable carts are located throughout the plaza and mezzanine areas.

FEATURED FOOD: Hot dogs, nachos, peanuts, pretzels, toasted ravioli, chicken wings, hamburgers, barbeque sandwiches, southwest sausage, chicken fingers, chicken club sandwiches, french fries, Pizza Hut pizza, bread sticks, assorted candies and more.

FEATURED BEVERAGES: Soft drinks, lemonade, bottled water, iced tea, beer, specialty beers, microbrews, mixed drinks and wine.



<! fixed bug 75664 -->